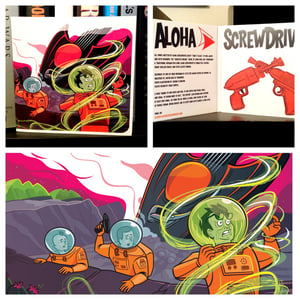 $

11.00
This is Aloha Screwdriver's second release and the 11 songs are all gritty instrumentals ranging from hot rod rockabilly to metal-tinged Russian folk songs, space western to haunted mansion.
The recording was captured live to 1-inch analog tape. Careful listening will reveal the occasional grunt or flat note, but you'd be missing the point. This may be the only recording you hear all year that didn't pass through Pro Tools before hitting your ears. This is the unvarnished sound of a real band playing real rock and roll, and it's a rare thing these days.
Purchase includes exclusive full color postcard of the original artwork.