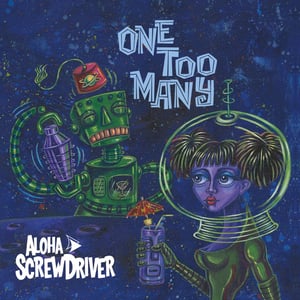 $

10.00
Aloha Screwdriver's first vinyl release is a 4-song barn burner! The record is pressed on purple vinyl, and like all our previous releases it was recorded live to tape and mixed to tape for an unmistakeable analog sound.
Against our better judgement, the songs are vinyl-exclusive and not available for download (though the first track can be streamed here).
Price is $10, shipped in sturdy cardboard.
Original artwork by Christine Benjamin.
Track listing:
1. The Calamari Kid
2. The Dead Line
3. It Fell From Earth
4. One Hearse Town